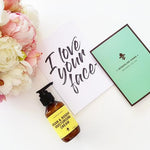 Never been so happy to announce it's Spring! My word, that was a looooong Winter. So, since Spring is here and you've got that lil' extra bounce in your step, there's no better time than the present to start prepping your complexion for the impending (and highly welcomed) rising temps and windy weather that lies ahead.
Here are our five top tips to help stave off Spring skin-related freak-outs;
Start Scrubbing
The heavy weather of Winter, coupled with indoor heating can cause season-long buildup on the skin—of dead skin cells, leftover product, and environmental pollutants —which is why we recommend exfoliating in the new season.
Gentle facial exfoliation, followed by a moisturising mask, will help get rid of that old, dead, winter skin.  To keep your skin in its best smooth and hydrated condition, exfoliate up to three times per week.  The Chamomile & Walnut Scrub and Pink Clay & Hibiscus Renew Mask to give skin a fresh, dewy glow. 
Hydrate & Protect
After some drying weather in Winter, we need to rebuild our skin and replenish all that moisture that's been lost. So, what exactly do you look for in a moisturiser? Keep an eye our for products that double as a moisturiser and a skin protectant. We're talking about ingredients like Camellia oil and Vitamin E that work as emollients and trap moisture inside skin cells, plus keep the skin hydrated. 
Protect thyself from the wind
Spring breezes can often feel like gale force winds. This can result in chapping, redness, and just general ruddiness. When this happens, you need to find something to protect, hydrate and comfort your skin. Adding in a hydrating mist throughout the day gives your skin that extra TLC it is craving. We love to carry Damask Rose Hydrating Mist in our hand bag and spritz it during the day whenever our skin feels dull or has some pesky dry patches.
PS: Models at Fashion Week swear by the virtues of Rose Mist and Vogue has picked ours as a fave (hurrah!) - you can read all about that here.  
Don't forget the SPF
SPF is a must have year round, but now the weather is warmer, you'll be more likely to be outside more and more.  Get to know which one works for your face and which one works for your body - sometimes the formula can be great on your arms but cause a break out on your face. We love sunscreens with ingredients like titanium dioxide and zinc dioxide, which react less with the skin to cause breakouts. 
Add an eye serum
Because the sun's more prominent in the spring (a.k.a. a hell of a lot brighter), people are more prone to squinting. To combat the fine lines and wrinkles that can form around the eyes, find an eye serum with a high concentration of
antioxidants
and vitamins, such as
Liposome Eye Gel.
  The duo work to both ward-off the collagen-destroying effects of UVA rays, and plump up the fine lines and wrinkles that have already formed. Of course, a a big pair of sunglasses
is never ever a bad idea.  
Above all else, enjoy the opportunity for new beginnings. 
PS: In love with this illustration by Kate Knapp about the 'real' Spring Clean..