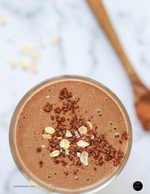 Sunday. Tired eyes but *pretending I'm* ready to go with this WAKE ME UP PROTEIN SMOOTHIE.
⠀⠀⠀⠀⠀⠀⠀⠀⠀
You'll need:
1/2 cup rolled oats
1 ½ cups (360ml) almond milk, unsweetened
½ cup (120ml) water
1 scoop (25g) chocolate protein powder
2 tsp. instant coffee powder
2 tsp. cocoa powder, natural
1 banana
¼ cup (30g) pecans
⠀⠀⠀⠀⠀⠀⠀⠀⠀
Place all the ingredients into a high-speed blender and blend until smooth. Serve straight away. Now you're ready to face the day. A Sunday well spent…..