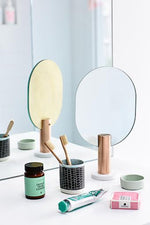 Cleansing your face before bed is one of the cardinal rules for maintaining healthy skin. Now, I am guilty of forgetting to cleanse before retreating to slumber on occasion and I've rationalised by thinking it's not a big deal. However the effects of not having a clean face before bedtime are actually significant. 
 
And here's why you need to cleanse:

Cleansing your face morning and night is essential to maintain a healthy glow, but you need to do it right, and you need to do it regularly. Late night excuses not withstanding!
Proper cleansing gives the following benefits: 
+ allows dirt and old surface skin cells to be removed
+ enables all that makeup grime and bacteria to be dissolved
+ allows the skin to breathe properly and freely 
+ promotes good circulation for your face (aka a healthy glow to your cheeks)
+ permits the skin to properly benefit from toning and moisturising 
A quick guide to cleansing:
+ ensure your hands are clean before you wash your face 
+ use warm water and a gentle plant-based cream cleanser such as ourCastille Cream Cleanser 
+ gently massage your face using circular motions
+ remove with a warm-water-soaked cotton muslin facecloth to remove excess water (you can get your muslin cloth here)
+ finish with a toner to and then lock in moisture with your favouritemoisturiser 
Our Big Cleansing Secret
My biggest secret for having radiant skin?
Cleanse once in the morning and twice at night – the first time will remove makeup and the second time will remove grime and pollutants leaving skin hydrated. I'd love to hear what you think...

Happy cleansing!
Thanks for reading, let me know what you think and feel free to forward this to a friend if you think they would enjoy reading this also, 
Jx