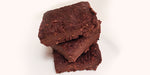 Skin can look lacklustre during winter but we can use our kitchen pharmacy to provide some radiance. Sweet potato combines the skin boosting nutrients of Vitamin A and Vitamin C.
 
Thanks to Lady Homemade for allowing us to share. It'll become favourite in your household. 
 

Ingredients 
1kg Sweet Potatoes, 2 medium/large ones
100 grams Dark Chocolate,  
½ cup Coconut Oil
4 tablespoon Chia Seeds
½ cup Water
2 tablespoon Raw Cacao Powder
1/3 cup Coconut Flour
1 teaspoon Vanilla Extract
1-2 tablespoon Rice Malt Syrup (optional: I don't think it needs it)
 
Method
1. Heat oven to 180C. Place whole sweet potatoes on a roasting tray and stab a couple of times with a small knife. Roast until super tender (1 hour to 1.5 hours). Make sure you line the tray as they ooze out sugary syrup!
 
2. Remove from the oven and allow to cool enough that you to handle them. Carefully peel and scoop out the flesh. Place in a large mixing bowl and mash until smooth.
 
3. In a small bowl, mix the water and chia seeds together. Set aside for around 15 minutes for the chia seeds to soak up the water.
 
4. Over a double boiler or in the microwave, melt the coconut oil and chocolate together and stir until well combined.
 
5. To the bowl of sweet potato mash, add the melted chocolate, chia seed mix, vanilla extract and rice syrup (if using) and stir to combine. Add the cacao and coconut flour and mix.
 
6. Spread the mix into a lined 24cm x 24cm baking dish and bake for 50-55 minutes.
 
7. Allow to cool to room temperature, then chill in the fridge before serving, ideally overnight.